Walks Around Laggan
Pattack Walk. Approx. 500metres. Easy going, not flat. Duration 0.5 hour. Ascent c. 30metres
Short fairly simple loop walk starting at Druim an Aird car park taking in a waterfall viewpoint. strong footwear recomended.
(Shown in yellow on map below)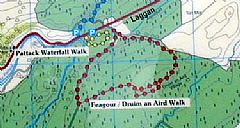 Druim an Aird walk. Approx 2200 metres. Some uphill. Duration 1-1.5 hours. Ascent: c. 100metres.
There are 2 ways to walk this loop-park at Druim An Ard car park – take the forest track beside the aqueduct. Easier route follows past cottage on forest track for 1.5 miles, turning left at the quarry to top of road. Loop path round ruins of Druim an Aird Village then follow path downhill returning to the aqueduct. To make die path more challenging walk the other way uphill from the Rights of Way sign and return by the forest road. Sensible footwear required.
(Shown in red on map above)
---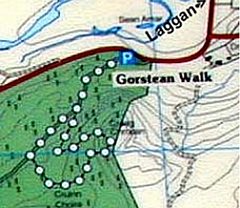 Gorstean Walk. Approx 1750 metres. Duration 1 - 1.5 hours. Ascent: c. 100metres.
Park at Gorstean car park, take forest road through gate onto loop section. Amazing views at top.
---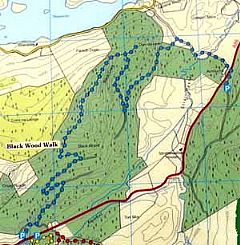 Blackwood Walk. Approx 8000 metres.
Very steep sections - not for the faint hearted.
---
Laggan to Newtonmore via Glen Banchor - 9 ½ miles or 6 ½ with a car at each end. Terrain mostly tracks, gentle inclines, one boggy area, and 2 burns to cross.
Garva Rd past Spey Dam and Loch toward Melgarve -around 7 miles each way to do the whole walk - tarred road all the way.
Falls of Pattack - approx. 2 miles with many possibilities to extend if you wish. It is a short and easy walk to the waterfall and it is a spectacular sight.
Coire Ardair or Creag Meagaidh - 9 miles on a steady uphill - dramatic but not difficult.
Dun da Lambh - 6 mile walk through the forest going steadily uphill with a much steeper area near the end finishing at the ruins of the Pictish fort with wonderful views over the valley.